The Complete Makeup Course
Learn how to apply makeup at home.
The Complete Makeup Course is our all-inclusive program giving you access to every single lesson in The Online Makeup School. You will learn how to flawlessly apply every aspect of your own makeup.
Our experienced tutors demonstrate modern makeup techniques and break down confusing concepts with easy to follow video tutorials and our exclusive downloadable textbook, making it easy to learn how to do makeup from the comfort of your home. We empower you to discover what makeup looks flattering on your face and how to effortlessly apply it with in-depth lessons that gradually build your knowledge and understanding.
Once you enroll, you will have immediate access to all of the lessons - that's over 90 video tutorials covering 11 beauty subjects! It might sound a little overwhelming, but everything is laid out in logical order from start to finish, and with lifetime access you can complete the course at your own pace, whenever you have the time. No driving to workshops, no need to get a babysitter - you don't even have to get dressed! Grab a cup of coffee, get comfy in your favourite chair and let our experts guide you through the program.
You might be thinking, "Why would I pay for this when I could just watch free tutorials on YouTube?".
YouTube is great, don't get me wrong - it's where I've been uploading content and educating my community for years - but have you ever felt overwhelmed by the sheer volume of makeup videos on there? Have you been able to find tutorials that actually cater to your needs and wants? It's possible to learn a lot from YouTube but most of the time, the basics are glossed over and and a base level of understanding is assumed that most people just don't have. It's like reading a book where all the chapters have been mixed up; the information is there but it's impossible to figure out what's going on!
This course will equip you with relevant and up to date information, delivered in the optimal order to effortlessly learn. Everything is beautifully laid out in one place and you are automatically guided through the program.
And remember, you don't know what you don't know. I personally do online courses all the time to learn new skills (like how to build this website!) and I usually start out hoping to learn one thing, but finish learning ten other thing I didn't realise I didn't know. That's the beauty of education and why it's so important to stay curious and keep learning!
I guarantee there is information in this course you have never heard before and didn't know you didn't know! I promise, you will learn SO MUCH! And hey, with our crazy 30 day no-questions-asked money back guarantee, you can get a full refund if you don't feel like it lived up to your expectations (it totally will though).
View the entire course curriculum below to see exactly what you will learn.
Please note, our courses are designed to teach you how to apply your own makeup, not how to become a professional makeup artist.
SKINCARE
Welcome To Skincare

What's Your Skin Type?

Common Skin Conditions

The Basics of A Good Skincare Routine: Cleanser

The Basics of A Good Skincare Routine: Moisturiser

The Basics of A Good Skincare Routine: Sunscreen
COLOUR THEORY
Welcome To Colour Theory

Understanding Your Undertone

Colour Analysis - What Colours Suit Me?

Colour Theory & Its Relationship To Makeup

Bringing It All Together - How To Practically Apply Colour Theory To Your Makeup
PRIMER & FOUNDATION
Welcome To Primer & Foundation

Priming 101

An Introduction to Foundation

How To Choose The Right Foundation For Your Skin Type

How To Choose The Right Foundation - What Coverage & Formula?

How To Choose The Right Foundation Colour

Tools For Applying Foundation

Troubleshooting Common Foundation Issues

Foundation Compatibility With Primer & Skincare

Demonstration: Foundation Application with Brush vs Sponge

Demonstration: How To Wear Powder Foundation Without Looking Dry

Demonstration: A Full Coverage Foundation Application
Founder of The Online Makeup School, Sharon has over a decade experience as a makeup artist and educator. Her YouTube channel with over 250,000 subscribers has inspired and empowered women across the globe to confidently wear makeup and experiment with new looks. Sharon truly believes anyone can be great at applying their own makeup, it just takes practice, patience and a basic understanding of why some things look good and some things don't.
WHO IS THIS COURSE FOR?
This course is for anyone who wants to learn how to better apply their own makeup and understand some of the 'science' behind why some things suit you and some things don't.
Maybe you're just starting out with makeup and don't know where to begin, or perhaps you're stuck in a style rut and want to learn some new techniques. You could be a new mum returning the workforce and want to feel refreshed and confident getting back to your role. Or, you might be a total beauty junkie who wants to brush up on some new skills and knowledge.
You will learn the why behind makeup rules and understand what looks flatter your face.
Please note our courses are non-accredited and will not teach you how to become a professional makeup artist.
HOW DOES IT WORK?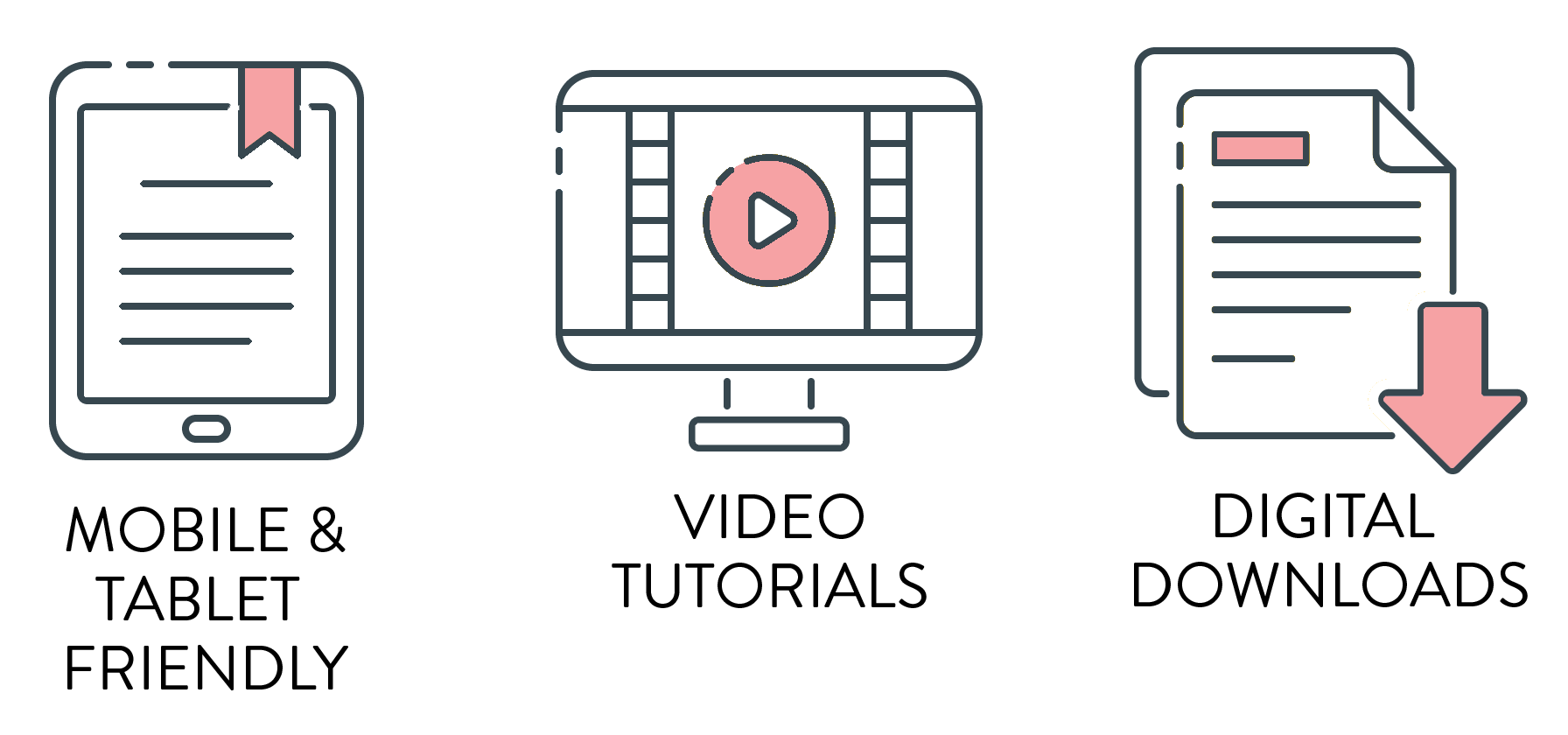 The training is broken down into core subjects which contain short lessons consisting of easy-to-follow videos, impartial product recommendations and our comprehensive downloadable textbook.
All of the training takes place online, contained in the private member only site. The program is mobile and tablet friendly so you truly can access it from anywhere at any time, all you need is an internet connection.
Your membership also gives you access to our private Facebook group where you can interact with other students and chat with our tutors. It's a very supportive community where you're safe to ask any questions and get even more help and support.
Plus, you're a student for life. You can login and access the course for as long as the course exists, including access to any new content we include as we update the curriculum.
No, this course is designed to help you to improve your personal makeup skills and application, and is not an accredited professional makeup course.
You will have access to the entire course content immediately after purchase, and with lifetime access for as long as the program exists, you can take as long as you need to complete it. You will also have access to any new content we include as we update the curriculum.
We are so proud of the course but your happiness is our number one priority so if you are unsatisfied with your purchase, contact us in the first 30 days and we will give you a full refund.
You will receive a certificate upon completion of The Complete Makeup Course, but this is not a professional makeup artist accreditation. This course will help you to improve your personal makeup application only.
After enrolling, you have unlimited access to this course for as long as the program exists, across any and all devices, including access to new content as we update the curriculum.
Everything is online in our members only site.
We cover just about every aspect of makeup application from beginner to intermediate level, including skincare, colour theory, face and eye shapes. We use a variety of models for our application demonstrations so you can better visualise how the makeup will look on your face.
We are committed to ensuring you get the most out of The Complete Makeup Course and will be here to help you along the way. We can answer your questions via our email (contact us here), and you can connect with tutors and other students through our private Facebook group.
ARE YOU READY TO MASTER YOUR MAKEUP?
The Complete Makeup Course